News & Updates
Tom Keneally: Ice cream with caramel and cherries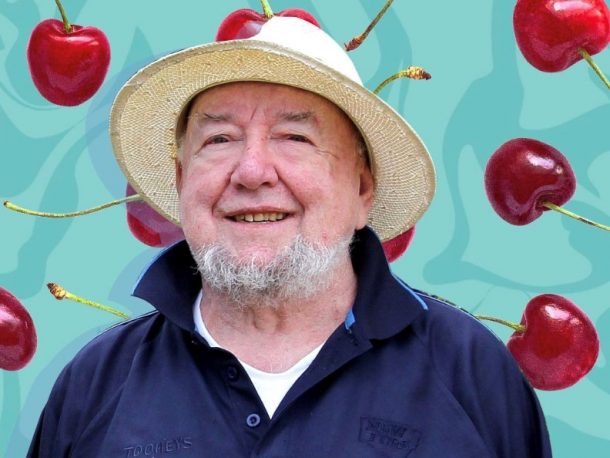 Recently, Tom Keneally shared a special friends recipe in an article published in The Australian. If you are after a new summer dessert recipe this might be it! Please see below for full article text and the recipe.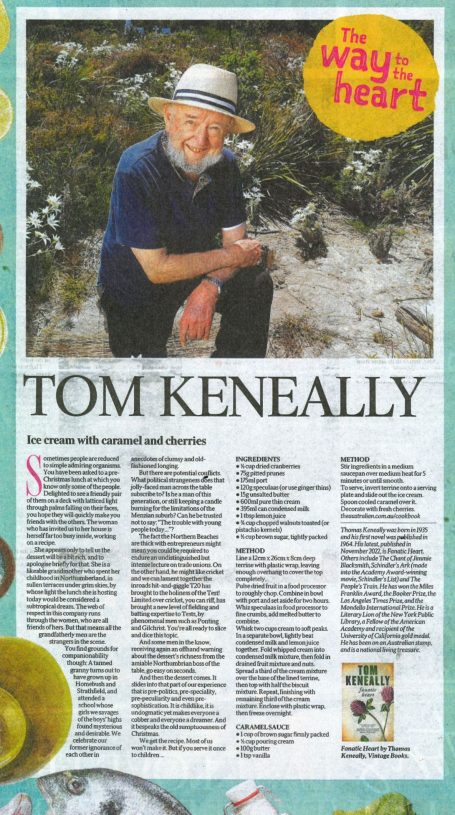 HEADLINE: THOMAS KENEALLY – The way to the heart – Ice cream with caramel and cherries
Sometimes people are reduced to simple admiring organisms. You have been asked to a pre-Christmas lunch at which you know only some of the people. Delighted to see a friendly pair of them on a deck with latticed light through palms falling on their faces, you hope they will quickly make you friends with the others. The woman who has invited us to her house is herself far too busy inside, working on a recipe.
She appears only to tell us the dessert will be a bit rich, and to apologise briefly for that. She is a likeable grandmother who spent her childhood in Northumberland, in sullen terraces under grim skies, by whose light the lunch she is hosting today would be considered a subtropical dream. The web of respect in this company runs through the women, who are all friends of hers. But that means all the grandfatherly men are the strangers in the scene.
You find grounds for companionability though: A tanned granny turns out to have grown up in Homebush and Strathfield, and attended a school whose girls we savages of the boys' highs found mysterious and desirable. We celebrate our former ignorance of each other in anecdotes of clumsy and old-fashioned longing. But there are potential conflicts. What political strangeness does that jolly-faced man across the table subscribe to? Is he a man of this generation, or still keeping a candle burning for the limitations of the Menzian suburb? Can he be trusted not to say: "The trouble with young people today…"?
The fact the Northern Beaches are thick with entrepreneurs might mean you could be required to endure an undistinguished but intense lecture on trade unions. On the other hand, he might like cricket and we can lament together the inroads hit-and-giggle T20 has brought to the holiness of the Test! Limited over cricket, you can riff, has brought a new level of fielding and batting expertise to Tests, by phenomenal men such as Ponting and Gilchrist. You're all ready to slice and dice this topic.
And some men in the know, receiving again an offhand warning about the dessert's richness from the amiable Northumbrian boss of the table, go easy on seconds.
And then the dessert comes. It slides into that part of our experience that is pre-politics, pre-speciality, pre-peculiarity and even pre-sophistication. It is childlike, it is undogmatic yet makes everyone a cobber and everyone a dreamer. And it bespeaks the old sumptuousness of Christmas.
We get the recipe. Most of us won't make it. But if you serve it once to children …
Ingredients
½ cup dried cranberries
75g pitted prunes
175ml port
120g speculaas (or use ginger thins)
15g unsalted butter
600ml pure thin cream
395ml can condensed milk
1 tbsp lemon juice
¾ cup chopped walnuts toasted (or pistachio kernels)
½ cup brown sugar, tightly packed
Method
Line a 12cm x 26cm x 8cm deep terrine with plastic wrap, leaving enough overhang to cover the top completely.
Pulse dried fruit in a food processor to roughly chop. Combine in bowl with port and set aside for two hours. Whiz speculaas in food processor to fine crumbs, add melted butter to combine.
Whisk two cups cream to soft peaks. In a separate bowl, lightly beat condensed milk and lemon juice together. Fold whipped cream into condensed milk mixture, then fold in drained fruit mixture and nuts. Spread a third of the cream mixture over the base of the lined terrine, then top with half the biscuit mixture. Repeat, finishing with remaining third of the cream mixture. Enclose with plastic wrap, then freeze overnight.
Caramel Sauce
1 cup of brown sugar firmly packed
½ cup pouring cream
100g butter
1 tsp vanilla
Method
Stir ingredients in a medium saucepan over medium heat for 5 minutes or until smooth. To serve, invert terrine onto a serving plate and slide out the ice cream. Spoon cooled caramel over it. Decorate with fresh cherries.
theaustralian.com.au/cookbook
Thomas Keneally was born in 1935 and his first novel was published in 1964. His latest, published in November 2022, is Fanatic Heart. Others include The Chant of Jimmie Blacksmith, Schindler's Ark (made into the Academy Award-winning movie, Schindler's List) and The People's Train. He has won the Miles Franklin Award, the Booker Prize, the Los Angeles Times Prize, and the Mondello International Prize. He is a Literary Lion of the New York Public Library, a Fellow of the American Academy and recipient of the University of California gold medal. He has been on an Australian stamp, and is a national living treasure.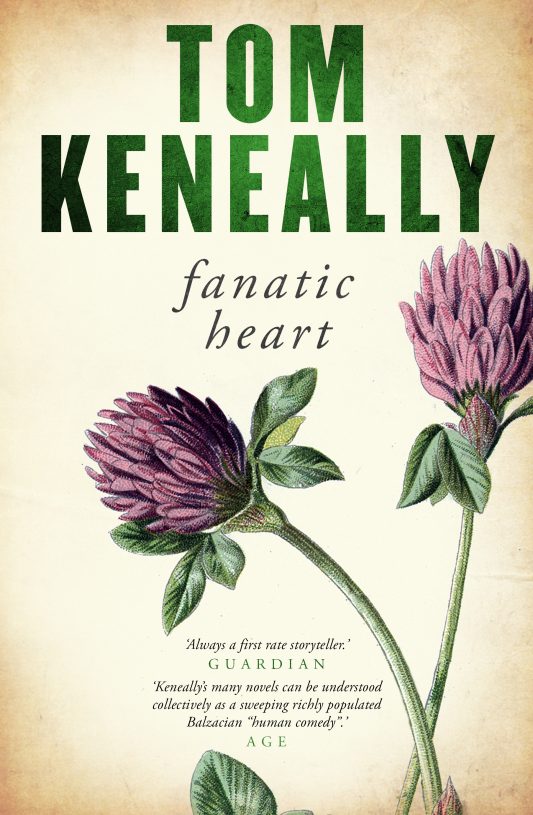 Fanatic Heart by Thomas Keneally, Vintage Books.
Read the article in The Australian online.
Published with permission from Tom Keneally. Original source The Australian, Life & Times, The Way to the heart, Tom Keneally: Ice cream with caramel and cherries, page 12, Wednesday 4th January, 2023.