News & Updates
Meet Jessica Murtagh, a glass artist innovating craft and design.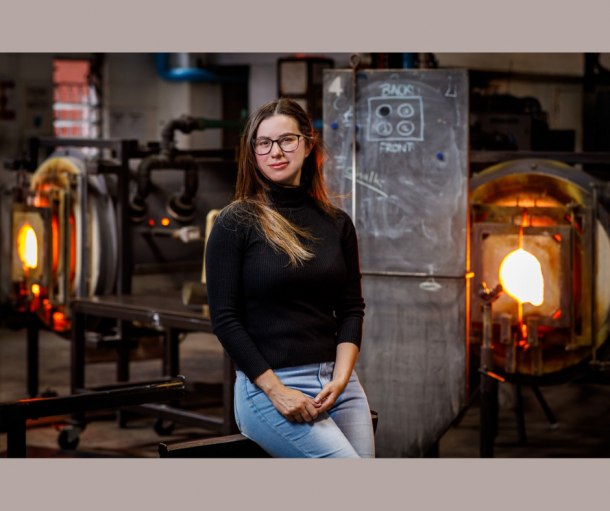 There is a new contemporary design award in town showcasing the innovators of the makers scene.
This year's inaugural MAKE Awards: Biennial Prize for Innovation in Australian Craft and Design, focuses on the makers redefining technique and materials.
One of those pioneering makers and MAKE Award Second Place recipient is Adelaide based glassblowing genius Jessica Murtagh, and we were honoured to get the chance to ask Jessica about her approach to glass and design.
Jessica, glass is a technically challenging material to work with, what drew you to this specific medium? 
I think ultimately I was drawn to it because it truly is a beautiful material to work with. The end result is so special but it's the process that was the clincher for me. One short weekend workshop in Melbourne with Bue Dog Glass and I was hooked. Something about the adrenalin of working with molten glass that is so addictive and fun to work with.
We would love to know about your creative process, what would a typical day look like for you in the studio? 
I suppose it depends if I'm in my home studio or at the Jamfactory glass studio. If I'm in the home studio, a typical day consists of the business of running an arts practice. This means a morning of the less exciting stuff of answering emails, ordering materials and paying invoices. Afternoons are often spent drawing out new scenes and characters using photoshop, engraving or gilding.
If I'm in the Jamfactory glass studio, it's a bit more exciting. I'll either be blowing glass, assisting other artists blowing glass or sandblasting my own work. Both kinds of day are just as important as the other, but getting to blow glass is by far the more preferred way to spend my time!
Within your practice you combine both glass and illustration. I am fascinated by your use of objects to tell relatable stories eloquently and humorously. How do you formulate these illustrations and what inspires the message of your work? 
When it comes to the scenes I illustrate, I mostly draw from my own life and experiences and on the lives of the people around me. I'm sometimes featured as a character if you look closely, particularly in the earlier pieces. I think I like the idea of telling stories we can all relate to or capture moments in time that we might all recognise, all while trying to slip in a bit of humour and a few discreet in-jokes (for those looking very closely) in the mix. In a time when it seems we're all striving to be special or unique, I find myself being more interested in what we have in common. I don't know anyone who hasn't at least once felt dangerously irritated when forced to use the self checkout at the supermarket. It's these odd, common moments that bring us together, the very small threads that make up the fabric of society.
I recognise the historical references included in your work displayed at the Makers Award, Self-checkout of Sisyphus. Why is the historical aesthetic so important to your work? 
Much of my work is inspired by the many artefacts left by the ancient Hellenic societies. It's the detailed story telling captured in a functional object like a vessel, showing godly deeds, heroic acts and the day to day doings of the common man that I have been fascinated with for many years. I wanted to tell the stories of contemporary life and in a small way preserve, much like the Hellenics did, a physical object that would (hopefully!) withstand the test of time to tell those stories to another generation or even a future society. Using the classic amphora form I feel that somewhere in the mind we instinctively associate it with the ancient world, even when it's a contemporary object.
What has it been like exhibiting and being recognized for your innovation as part of the first ever MAKE Awards? 
It's been pretty amazing! I was pretty floored to have been chosen as a finalist, especially after seeing the incredible designers and artists I would be shown amongst so you can imagine I was very surprised to be awarded the second prize. They had to call my name twice on the awards night as I was so shocked that I'd been named at all.
We would love to know what you're currently developing and what's next on your creative journey?
I'm currently working towards a new solo exhibition which will be in Adelaide in 2024. It'll be a mix of similar narrative style work and some more decorative pieces which draw a lot of influence from baroque styles – think complex patterns and extravagant 22k gold gilding.
A huge thank you to Jessica Murtagh for taking the time to answer our questions, it's been so fascinating to dive into Jessica's work. You can see more of Jessica's work on her website. Congratulations to all the finalists of the first ever MAKE Award: Biennial Prize for Innovation in Australian Craft and Design. You can visit the MAKE Awards at the Australian Design Centre until the 22nd November 2023.
Feature image credit:  Portrait of Jessica Murtagh by Matt Turner