News & Updates
Catching up with Rachel Franks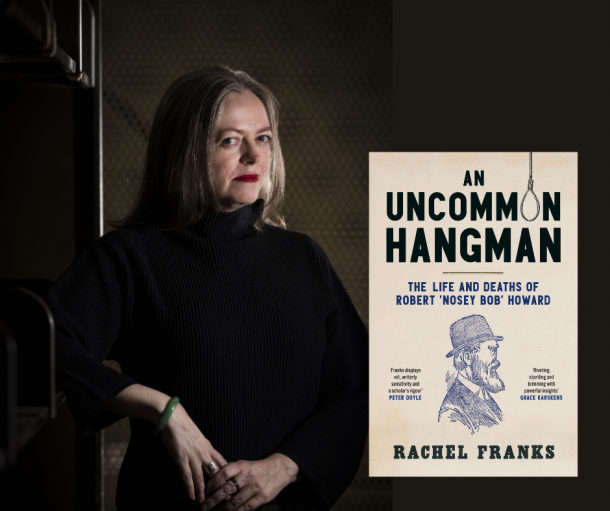 Now in their sixth year, the BAD Sydney Crime Writers Festival's Danger Awards are a highly anticipated event in the crime genre calendar. This year the award broke new ground with the inclusion of a People's Choice Award category.  
As crime genre enthusiasts, we were ecstatic to get the lowdown direct from this year's People's Choice Winner, Rachel Franks about her winning book An Uncommon Hangman. Rachel is an academic and award-winning author with a keen interest in crime. Holding a PhD in Australian Crime Fiction, Rachel has a wealth of experience diving into research based writing.
Rachel, how does it feel to have your book An Uncommon Hangman recognised in this way by readers? 
I was extremely excited to win this award, and I am so thankful to everyone who voted. As a debut author, I was overwhelmed just being on the list! There were so many terrific books across the fiction and non-fiction categories for this year's Danger Awards; it really felt like I had been invited to dinner with the "who's who" of Australian crime writing.
It is also a fabulous thing for Robert Howard. As a hangman, Howard spent the bulk of his adult life being the most hated public servant in New South Wales, so I think he would be quite pleased to turn that all around and be the "People's Choice".
The generosity of festivals such as the BAD Sydney Crime Writers Festival, and sponsors of cultural events including OverDrive Australia, ensure vibrant literary programs for readers and for writers. Prizes can be controversial, but they also offer tremendous encouragement – especially for new writers.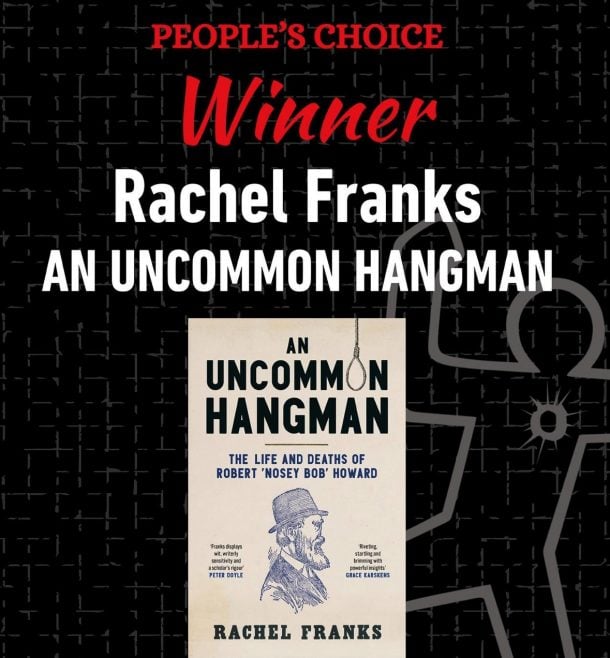 Can you tell us a little about An Uncommon Hangman? 
At its core, An Uncommon Hangman is a biography of Robert Howard the man most people know as Nosey Bob. Unlike some men who had careers in law enforcement, Howard – who was the longest-serving executioner for New South Wales – did not leave a lot of evidence of his own life behind. So, the book is the story of his life, but it is also the story of the abolition of the death penalty as well as a cultural history of Sydney and its surrounds. There were days it felt like I was working on several books at once and trying to weave them together, but I believed researching and writing about Howard's life and the times he lived in was the best way to show people he was not just his job title.
An Uncommon Hangman obviously connects with people. What drew you to Howard's story and why do you think readers today are wanting to know more about Howard's life?
Initially, I believed the bad press coverage of Howard – a man who bungled on the scaffold over and over – and I was trying to work out how he had held his position for so many years. When I came to know him better, I began to appreciate that he was much more than the odd bad day at the office. In fact, he was an ordinary bloke. Howard had a family and a pet dog, and he was a man who liked to fish or have the occasional drink. I think we can all relate to that, to doing what we must do to survive while being much more than the one or two things we are known for.
The topics covered in this book are particularly gruesome. I found the descriptions of crimes and hangings sometimes difficult to read. What was it like spending so much time focused on a hangman?
When I made the decision to tell Howard's life through his deaths, I thought I had solved the problem of writing up a man that not many people had wanted to talk about or document. I remember thinking "this is fantastic": I have content, I can fill in the gaps in the archive, I have a structure, all I need to do is methodically go through each perpetrator and each hanging. Well, it was not as simple as that … It was still immensely challenging, I had to stay sane while immersing myself in truly terrible crimes and write in a way that would not alienate my readers. Having a dark sense of humour certainly helped.
Some days were much more difficult than others. Reading dozens, often hundreds, of newspaper articles on a single criminal case – and its hideous end on a scaffold – could be hard work. My biggest fear was that I would become immune to the violence, or that I would find a case so heinous that I might lose my deeply held revulsion for capital punishment. Fortunately, neither of those things happened and I can thank Nosey Bob for that. He was a hangman because he felt he had no other choice, and once he was in the business he was handcuffed, in a way, to the sheriff. I kept coming back to Robert Howard, his strange brand of altruism, and my desire to rehabilitate his reputation in a small way. I also kept focused on my goal to understand why we relied on the death penalty for so long as a deterrent (spoiler alert: we knew it was cruel and that it was not effective in reducing crime in the community).
When reading An Uncommon Hangman, Nosey Bob is described within the complex stories of those around him. How did you approach investigating so many lines of enquiry?
I had a spreadsheet! With so many felons, I did confuse a few of them along the way; I needed to create a clear timeline of crimes and court cases and then shaking hands, so to speak, with Nosey Bob. It was also important to triple check all the details in newspapers as journos of the nineteenth century were not always great when it came to being diligent with names, places, and dates. Early newsmen were also shameless plagiarists, so if a mistake appears in one paper you will often find it repeated in another.
That said, newspapers are a good place to start researching colonial-era New South Wales. They are accurate enough to give solid information and lots of clues that you can then go and test in the archive against a range of historical sources. It was essential, dealing with such a complex topic, to be as historically accurate as possible.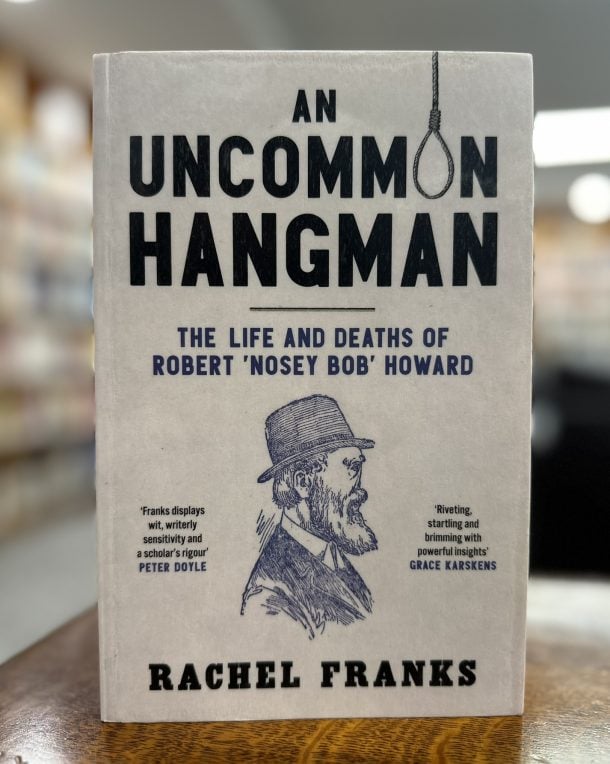 For any budding crime writers, do you have any tips or wise words you can share?
Write something (anything!) every day. You might type up pages of neatly formatted text that only need a little bit of editing, or you might just write down half an idea on a scrap of paper.
Perhaps the best advice I can give is to have super-smart friends. It was crucial, for me, to be able to ask questions, seek advice, and to debrief after a tough writing session (although I think a few of my pals are pleased that I am no longer researching the science of hanging someone!).
We would love to know if you have any exciting projects coming up.
I recently had the opportunity to edit, with Richard Neville, a new book Reading the Rooms: Behind the paintings of the State Library of NSW. This volume that celebrates the Library's sometimes glorious, but sometimes unusual, collection of oil paintings is out in December 2023 (from NewSouth). It was great to make a return to editing and to work with such an enthusiastic team. I am, though, looking forward to starting work on another history of colonial crime. My next project will look at crime in Sydney and regional New South Wales in the mid-1800s. I want to explore how people, from all walks of life, experienced crime and punishment every day. I think it will be fascinating to go beyond newspaper headlines and the big cases that consumed the workloads of policemen and officers of courts to understand more personal responses to our early crime waves.
Congratulations to Rachel on winning the 2023 People's Choice Danger Award and a huge thank you for answering our questions on An Uncommon Hangman.  SMSA members can borrow An Uncommon Hangman from our library on level 2. This book is also for sale at your local book shop, here is a link to our friends at Abbey's Book Store.
Feature image credit: original image of Rachel Franks by Joy Lai

Feature Author: Victoria Hall