What's On
VIRTUAL VIEWING PARTY Nicolas Roeg's Walkabout (1971)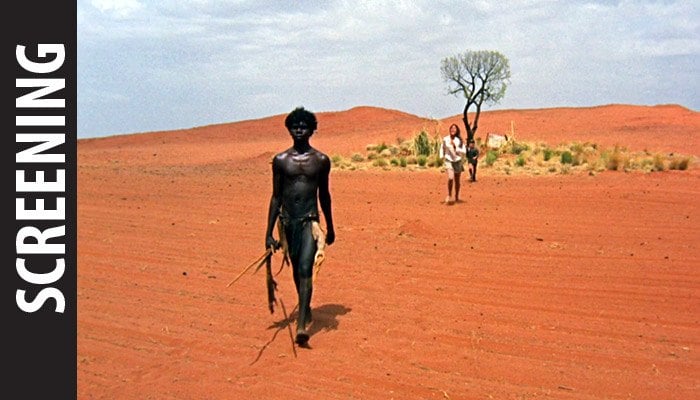 Date & Time
---
Classic Film Night Virtual Viewing Party
A teenaged girl (Jenny Agutter) and her younger brother are shot at and abandoned by their father (John Mellion) in the harsh Australian desert after a picnic gone wrong. They struggle to survive until they encounter a young Aboriginal boy (David Gulpilil, in his first role), who helps them navigate the hostile landscape and find their way home.
Walkabout is famous for its panoramic landscape cinematography interspersed with close ups of Australian plant and animal life.
This will be a virtual event via Zoom and Beamafilm.  
Full details on how the Virtual Viewing Party will work can be found on the left.
Please register your attendance below to be sent the Zoom meeting details and link to the film.
CLICK HERE TO Register
"The images of the Outback were of an almost hallucinogenic intensity. Instead of the desert and bush being infused with a dull monotony, everything seemed acute, shrill, and incandescent. The Outback was beautiful and haunting."
— Louis Nowra
Walkabout (1971)
Directed by Nicolas Roeg
Screenplay by Edward Bond
Based on the novel by James Vance Marshall
Music by John Barry
Cinematography by Nicolas Roeg
Starring Jenny Agutter, David Gulpilil, John Mellion
How will the Virtual Screening work.
This "Virtual Viewing Party" will provide film lovers with an opportunity to discuss this film with like-minded people.
We plan to convene in Zoom initially for a preliminary discussion where Peter Rainey will introduce and give some background information on the film's production. We will then end the Zoom meeting, and members will be prompted to log into Beamafilm to watch the film. Following the film, we will reconvene on Zoom for a wrap up discussion and questions.
---
IMPORTANT
You will need to register your attendance ahead of time so that you can be sent the Zoom meeting details and the link to the film.
You will also need to create an account with Beamafilm using your SMSA Member Number at least 1-2 days before the screening.
Your member number can be found on the back of your membership card or by emailing the Library at library@smsa.org.au 
Beamafilm is 100% free for SMSA members. Non-members are welcome to join the SMSA.
---
Schedule
6.00pm
Zoom Part 1:
Introduction and preliminary discussion of the film
6.30pm
Zoom ends.
Log into Beamafilm and watch M (110 min)
8.30pm
Zoom  Part 2
Wrap up discussion of film and questions.
Cinema Group, now that he has retired after 40 years in the education profession.