What's On
VIRTUAL VIEWING PARTY George Orwell's Animal Farm (1954)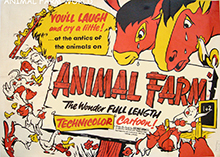 Date & Time
---
Movie Matinee Virtual Viewing Party
Join us for a virtual viewing party via Zoom and Beamafilm to watch the animated classic, Animal Farm, a no-holds-barred adaptation of George Orwell's classic satire.
Prize hog Old Major gathers all the farm animals together to discuss their mistreatment. When he dies in the middle of teaching them a revolutionary song, and the animals are inspired to revolt against the farmer and stage a revolutionary coup. Victorious, the animals begin destroying every trace of the farmer's influence, starting with the weapons used against them. At first all is well, but over time it becomes apparent that while all animals are supposed to be equal, some are more equal than others…
FREE
This will be a virtual event via Zoom and Beamafilm.  
Full details on how the Virtual Viewing Party will work can be found on the left.
Please register your attendance below to be sent the Zoom meeting details and link to the film.
CLICK HERE TO REgister
Animal Farm (1954)
Directed by John Halas and Joy Batchelor
Written by Joy Batchelor, John Halas, Borden Mace, Philip Stapp and Lothar Wolff. Based on Animal Farm by George Orwell
Animals Voiced by Maurice Denham
Narrated by Gordon Heath
| Animation
How will the Virtual Screening work.
This "Virtual Viewing Party" is a bit of an experiment in response to Covid-19, but we hope it will provide film lovers with an opportunity to discuss this film with like-minded people.
We plan to convene in Zoom initially for a preliminary discussion where Peter Rainey will introduce the film and give some background information on the film and the director. We will then end the Zoom meeting, and members will be prompted to log into Beamafilm to watch the film. Following the film, we will reconvene on Zoom for a wrap up discussion and questions.
---
Please note:
You will need to register your attendance ahead of time so that you can be sent the Zoom meeting details and the link to the film.
You will also need to sign up with Beamafilm using your SMSA Member # BEFORE the screening (we recommend at least 1 day before). Your member number can be found on the back of your membership card or by emailing the Library at library@smsa.org.au 
Beamafilm is 100% free for SMSA members. Non-members are welcome to join.
---
Schedule
3.00pm
Zoom Part 1:
Introduction and preliminary discussion of the film
3.30pm
Zoom ends.
Log into Beamafilm and watch Animal Farm (72 min)
approx. 4.50pm
Zoom  Part 2
Wrap up discussion of film and questions.