What's On
VIRTUAL TALK: Living with Chronic Pain – the hidden world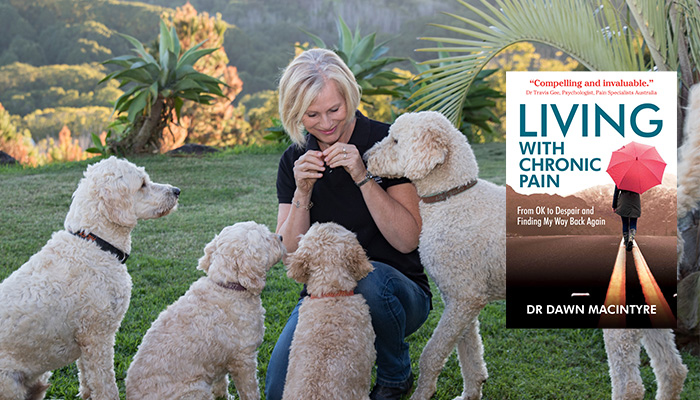 Date & Time
---
Chronic pain can have an impact on every aspect of a person's life – many people can cope for a long time, until they face a tipping point when their whole world changes – at that point, nothing seems real anymore except the pain.
Dr Dawn Macintyre, author of Living with Chronic Pain: From OK to Despair and Finding My Way Back Again, joins us to share her personal experiences with chronic pain, including how she navigated through the total change to every aspect of her life, to come out the other side in one piece.
Dawn will take us through topics that are not mentioned in rehab programs: changes to sense of self, managing despair and exhaustion, financial challenges, working with insurance companies, medication challenges, relationships with family, friends and health professionals. She will also explore the importance of validation and the constant frustration when the pain is nonspecific, all consuming, changing and unpredictable.
missed this talk?
view recording below

'If you are a health professional, this book offers insight into how to best support your patients and clients living with chronic pain. If you know someone living with chronic pain, reading this book will help you understand and support them. If you are living with chronic pain, this story will bring you courage, joy and most importantly, the knowledge to find your meaningful life again. This book is a clear window into chronic pain. It also contemplates the bright horizon'.
Elizabeth Carrigan, previous CEO, Australian Pain Management Association Limited
Dr Dawn Macintyre
Dawn Macintyre is an experienced clinical counsellor who has worked in her own private practice for nearly three decades and supervises counsellors to assist them in their professional practices.
Dawn has degrees in Education and Psychology (London) a Master's in Public Health (Curtin) and a PhD in Public Health from Queensland University. She has had a varied career, combining academic and practical roles which have included University Lecturer, Senior Behavioural Scientist, Injury Prevention specialist, Manager of the Queensland Injury Surveillance Unit and Director of the Safe Communities Centre at Mater Children's Hospital, and Manager of an early intervention anxiety and depression program for hard to reach communities. She has also presented at national and international conferences, runs educational workshops and is author of 6 books and numerous peer reviewed papers.
Dawn is a proud and happy daughter, wife, mother, foster mum, grandmother, animal lover and she says, hopefully, good friend. She has 4 rescue 'oodles' and 4 alpacas who are a major part of her life, living 'her dream' in the Northern Rivers, NSW. Dawn and her husband Neil own Highland Retreat, providing a sanctuary amidst the beauty of rolling green hills, for families who may need some respite from life's daily challenges.
Dawn's life came crashing down in 2013 when her pain took over every aspect of her life.  For four years, Dawn struggled with maintaining her usual positive self, spending her time in screaming pain, between hospital, rehabilitation programs and her bedroom. Finding light amongst the darkness, fighting the stigma, depression and noticeable lack of understanding and compassion amongst so many (not all) health professionals, Dawn struggled to find answers.
Dawn hopes that this book represents the voices of many, so we can collectively have a better understanding of life with chronic pain and find the support we need to be the best we can be.
Living with Chronic Pain: From OK to Despair and Finding My Way Back Again
One in 5 people live with chronic pain and most feel misunderstood and unsupported.
Dr Dawn Macintyre was one of those people. In Living with Chronic Pain, Dawn shares her journey from living a full life to a life so diminished, full of pain, shame and exhaustion that she was desperate enough to want to take her own life.
The author's personal story is interwoven with insight into the emotions and challenges faced, as well as practical advice and support to help sufferers enjoy life again. Dawn provides a unique perspective as she is both a health practitioner and a sufferer of chronic pain.
Special offer: To purchase a personally signed copy of this book at a 25% discount, visit Dawn's website and enter coupon code LWCP at Checkout.
We also have a copy of Dawn's book available to borrow from the SMSA Library.
Missed this Virtual Talk?
You can watch the Zoom recording here: