What's On
VIRTUAL TALK: Life in Medieval Times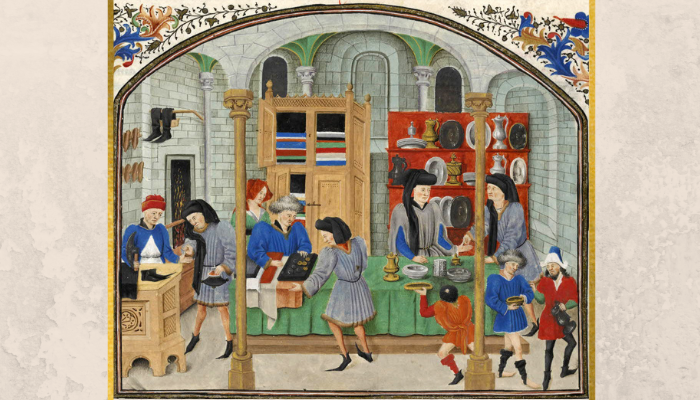 Date & Time
---
Knights, ladies, castles – these are often the popular images of the Middle Ages. But the reality of life then was actually much harsher, and more interesting.
Despite poor hygiene, low life expectancy, and a meagre diet, medieval life had its own particular joys, and was a time that produced such important things as the printing press, eyeglasses, double-entry book-keeping and the mechanical clock, as well as some profound philosophical insights and wonderful literature.
Step back to life in another time with this illustrated talk.
This will be a virtual event via Zoom.
Please register your attendance below to be sent the Zoom meeting details.
FREE — Everyone Welcome
Click here to register
Image: Nicole Oresme, translation of Aristotle's Ethics, Politics, and Economics, Rouen (France), Bibliothèque Municipale, Ms. 927, fol. 145, Public domain, via Wikimedia Commons
VIRTUAL TALK: Life in Medieval Times
Join Carmel Bendon as she takes us through life in medieval times, exploring topics including the composition of medieval society, the status of women, life in towns vs. rural areas, the role of the Church, approach to health and disease, pilgrimage, and the medieval understanding of the 'universe' and its application to everyday life.
Click here to register and receive Zoom details.
About Carmel Bendon
Carmel Bendon is a writer, academic and presenter on "all things medieval".
She has a PhD in Medieval Literature and a 1st Class Honours in Early English, both from Macquarie University where she was a lecturer in English Literature. Her specialist field is Medieval Mystics and this was the basis of her successful non-fiction book Mysticism and Space. Other publications include articles on St Augustine, Julian of Norwich, Hildegard of Bingen, Geoffrey Chaucer, Jorge Luis Borges, and Oscar Wilde. She has been a contributor to the International Dictionary of Literary Biography, a features writer for theatre and arts publications, and a peer reviewer for several international journals. Carmel's radio presentations include 'Medieval Women – A Series' on The Ark, Radio National. Her works of fiction include Grasping at Water (Odyssey Books, 2018).
About Grasping at Water
When a young, unidentified woman is pulled alive and well from Sydney Harbour in 2013, the connections to another woman – found in similar circumstances forty years earlier – present psychiatrist Kathryn Brookley with a terrible decision as the events of the present and past begin to mirror each other and the gap between truth and illusion shrinks. When the young woman declares that she has lived continuously since coming to 'understanding' in the 14th century, her vivid accounts of life, love, childbirth, and loss in the Middle Ages seem so authentic that they test Kathryn's scientific objectivity to the limit. As Kathryn delves deeper, she discovers that she is not the only one whose habitual assumptions about life have been torn asunder by an apparent experience of the miraculous in connection with the mystery woman. But it is the emotional, spiritual and mystical insights that emerge from the linking of all the facets of this mystery that affect Kathryn and others most profoundly, reflecting the commonality of human experience across the ages and the deep yearnings within all of us.
Grasping at Water is a marvellous mix of mystery, history and discovery that will prompt you to wonder about the way you see life.
Grasping at Water was recently Highly Commended in the Society of Women Writers 2020 Book Awards.