What's On
Touring Australia by Road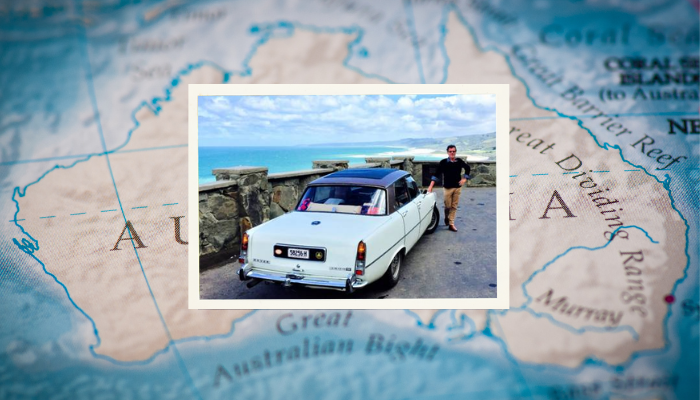 Date & Time
---
Join Ian Scanlon as he shares his journeys around Australia with a group of historic car club members, and get inspiration for your next travel adventure.  
Free event – all welcome.
We are a COVID Safe organisation.
In line with NSW Health orders, visitors to our Theatre will be required to register their details with the Service NSW COVID Safe QR code.
Mask wearing is encouraged. Please observe social distancing guidelines.
If you are feeling unwell with COVID-19 symptoms (however mild) or have visited a hotspot in the past 14 days, please do not come in. We encourage everyone to regularly check the list of hotspot locations and alerts on the NSW Health website and follow their advice.
The health of our members, visitors and staff remains our priority and we appreciate your cooperation and patience.
Touring Australia by Road – in person talk with Ian Scanlon
With COVID-19 changing the way we make our travel plans (at least for the foreseeable future), exploring our own backyard is the only way to have that much needed mini-break or holiday.
While some of us might be missing regular visits to far away family and friends, or annual holidays to overseas destinations, it has never been more important for us to embrace the beautiful country we live in.  Holidaying here in 2021 will also contribute toward boosting our economy and supporting the livelihoods of fellow Australians.*
Ian Scanlon will lead a presentation and discussion about touring Australia by road, sharing highlights of his road trip experiences within a group of car club members driving historic cars. The club has so far visited all states in Australia, exploring far and wide to experience as many interesting locations as possible, with the only region not yet visited in the club's travels being the Kimberley. Ian will describe the processes followed in planning his adventures and will share some of the most memorable places experienced on his travels.
*Remember to check current travel restrictions before planning and embarking on your Australian journey, as well as during your journey, and always adhere to Government health regulations.
Event details
This event will be held in person at our newly renovated Henry Carmichael Theatre (formerly known as the Mitchell Theatre), Level 1, 280 Pitt Street Sydney.
Registration to attend this event is essential due to limited capacity (as per COVID-19 safety regulations).
About Ian Scanlon
Since retiring from teaching in 2014 after 38 years, culminating as Principal of a NSW public high school for 14 years, Ian has been President of Maitland Classic Motor Association (MCMA). He has been Events Co-ordinator of MCMA since the late 1990s and still continues in that role. In 2011 Ian instituted annual tours and they continue, with the exception of 2020. In 2014 Ian purchased a 1974 Rover P6B 3500S explicitly for these tours and since then has driven it 83,000 kilometres. Ian is particularly interested in British cars. In his stable he has the Rover, and 1967 MGB, a 1976 Triumph Dolomite Sprint, 1985 and 1988 Jaguar Sovereigns, as well as a 1924 Buick and a 2011 Ural Motorcycle and Sidecar.