What's On
VIRTUAL TALK Tom Keneally on The Dickens Boy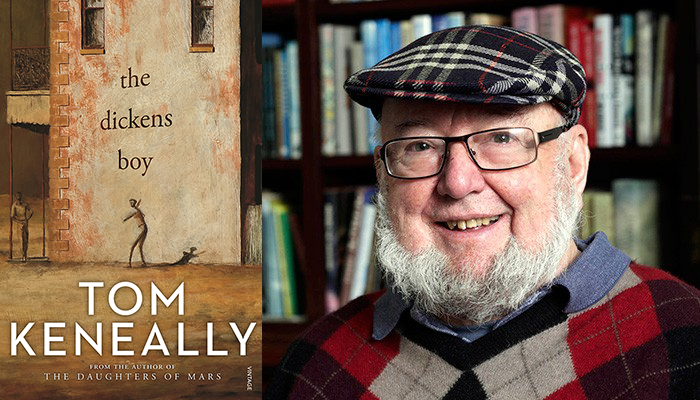 Date & Time
---
Join Tom Keneally for a fascinating talk on his new novel, The Dickens Boy. Keneally masterfully resurrects the story of Plorn, the disappointing tenth child of Charles Dickens who was sent to Australia so as not to tarnish his father's reputation.
This will be a virtual event via Zoom. 
Please register your attendance below to be sent the Zoom meeting details. 
FREE — Everyone Welcome
Click here to register
Keneally is especially good at rendering the small psychological adjustments made between people embarking on intimacy
— New York Times Book Review
Keneally's gift, and his blessing to the many hundreds of characters he has created, is always to find the extraordinary within the ordinary. Each of them rises out of and above their varying backgrounds: the class, religion, ambition that mark but do not define them.
— The Australian
About The Dickens Boy
In the late 1800s, rather than run the risk of his under-achieving sons tarnishing his reputation at home, Charles Dickens sent two of them to Australia.
The tenth child of Charles Dickens, Edward Bulwer Lytton Dickens, known as Plorn, had consistently proved unable 'to apply himself ' to school or life. So aged sixteen, he is sent, as his brother Alfred was before him, to Australia.
Plorn arrives in Melbourne in late 1868 carrying a terrible secret. He has never read a word of his father's work. He is sent out to a 2000-square-mile station in remotest New South Wales to learn to become a man, and a gentleman stockman, from the most diverse and toughest of companions. In the outback he meets extraordinary people and enjoys wonderful adventures as he works to prove himself.
About Tom Keneally
Tom Keneally won The Booker Prize in 1982 with Schindler's Ark (later made into the Academy Award-winning film Schindler's List). Since his first novel was published in 1964, he has written a considerable number of novels and non-fiction works.His non-fiction includes Three Famines, The Commonwealth of Thieves, The Great Shame and American Scoundrel. His novels The Chant of Jimmie Blacksmith, Gossip from the Forest and Confederates were all shortlisted for the Booker Prize, while Bring Larks and Heroes and Three Cheers for the Paraclete won the Miles Franklin Award. Keneally has also won the Trebbia Internationa Award for his body of work, the Mondello International Prize and has been made a Literary Lion of the New York Public Library. He co-authors the Monsarrat series of crime novels with his daughter, Meg Keneally. The Tom Keneally Centre at Sydney Mechanics' School of Arts is named in his honour and is dedicated to Australian literature and history.