What's On
Tom Keneally Centre OPEN — Everyone Welcome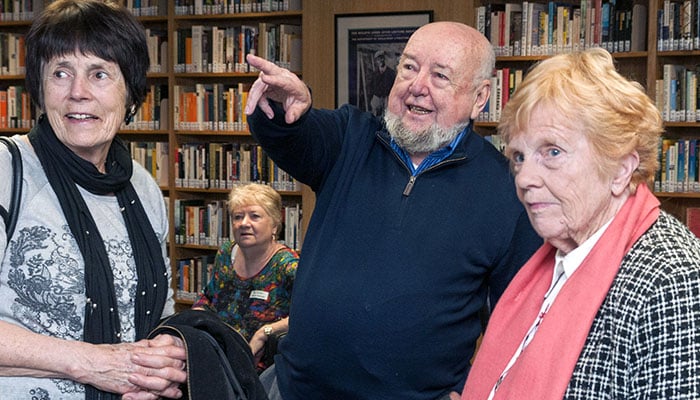 Date & Time
---
Visit the Tom Keneally Centre
Far from being an 'ivory tower', the Tom Keneally Centre (TKC) is Thomas Keneally's living legacy to Australia, holding books that have significance to him.
Located on Level 3, 280 Pitt Street, Sydney, at the Sydney Mechanics' School of Arts, the Tom Keneally Centre has been featured in SMH's sydney(magazine) as one of the top 20 most peaceful places in Sydney.
It really is a delightfully restful retreat from the city's hustle and bustle. Read a book, do some research or just hang out.
Everyone is welcome to drop in.
You don't have to be a member to visit, however SMSA members can borrow from the Tom Keneally Centre collection in addition to their other membership benefits.
Come and visit today!
OPEN
Tuesdays, Thursdays & Fridays
from 10:30am to 2:30pm.
DROP IN — Everyone Welcome
Please Note
The Tom Keneally Centre will close at Midday on Thursday, 20 February due to a special event, Peter Grose in conversation with Tom Keneally. Bookings are a must – no entry without a booking.
Tom Keneally's Availability
SMSA and our resident author, Booker Prize-winner Tom Keneally, would like to extend an open invitation for you to come and meet him. All are welcome!
Tom works in the TKC regularly. He generally lets us know in a few weeks advance when he will be in and able to chat with readers and writers.  We will publish his availability on this page as the information becomes available.
NB: Tom is always approachable and happy to chat, but please understand that this is on an informal and unstructured basis only. Tom's actual availability on the day may vary depending on scheduled meetings and other commitments.
Learn more about the Tom Keneally Centre
Forming acclaimed author Thomas Keneally's living legacy to Australia, the Tom Keneally Centre is devoted to Australian literature and history. It houses his personal collection of books and memorabillia, and is Tom's office in the city.
Sign up for a Writing Master-Class taught by Tom Keneally, or book in to hear your favourite authors speak in an intimate and cosy setting. Past speakers have included Frank Moorhouse, Tara Moss, Tim Bowden, Stephanie Dowrick and more.
SMSA members can now borrow up to two books from the Tom Keneally Centre collection for two weeks at a time in addition to their normal SMSA Library borrowing quota.
The beautiful Tom Keneally Centre is now open for venue hire. It's the perfect location for your next literary event, product launch or other special event. For more information, email venue.hire@smsa.org.au.