What's On
The Wreck – Meg Keneally in conversation with Leah Kaminsky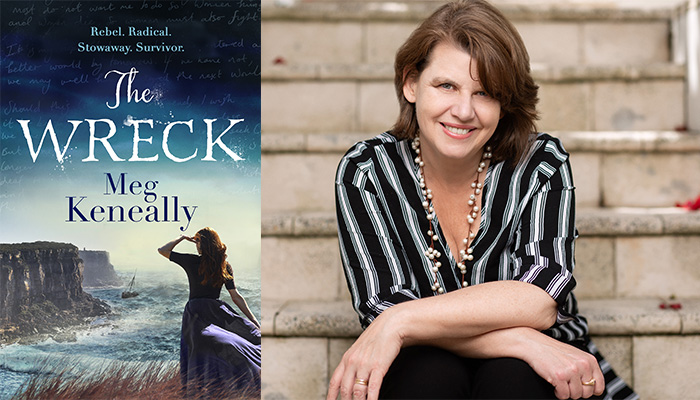 Date & Time
---
Join Meg Keneally in conversation with Leah Kaminsky as she takes us through her latest novel, The Wreck.
Meg Keneally's second solo novel is an exciting historical fiction adventure about power, sedition and survival. With a strong lead female protagonist, the novel's themes of political resistance and rebellion are rich in history but deeply relevant for today's world. This one is for fans of historical, adventure and women's fiction, in the vein of Kate Forsyth, Kate Morton, and even Clive Cussler.
missed this talk?
view recording below
About The Wreck
1820, London. Sarah McCaffrey, fleeing arrest for her part in a failed rebellion, thinks she has escaped when she finds herself aboard the Serpent, bound from London to the colony of New South Wales. But when the captain's reckless actions drive the ship into a cliff, Sarah is the sole survivor.
Adopting a false identity, Sarah determines to make a new life for herself in Sydney. She takes the first work she can find, under the formidable Molly Thistle, who has grown her late husband's business into a sprawling trade empire. As time passes, Sarah begins to see there is more than one way of changing the world—but then her past follows her across the seas…
About Meg Keneally
Meg Keneally has always been fascinated by the ocean and history, in particular maritime history and archaeology. A former SCUBA diving instructor, Meg still spends as much time underwater as she can. Meg has worked as a public affairs officer, sub-editor, freelance feature writer, reporter, and talkback radio producer, before co-founding a financial service public relations company, which she then sold after having her first child. For more than ten years, Meg has worked in corporate affairs for listed financial services companies. She is co-author with Tom Keneally of The Monsarrat Series of historical mysteries. Fled, Meg's first solo novel, based on the escape of First Fleet convict Mary Bryant, was published in 2019.
She lives in Sydney with her husband and two children.
About Dr Leah Kaminsky
Leah Kaminsky is a physician and award-winning writer. Her debut novel The Waiting Room won the Voss Literary Prize and was shortlisted for the Helen Asher Award. The Hollow Bones won the 2019 International Book Awards in both Literary Fiction & Historical Fiction categories and the 2019 Best Book Awards for Literary Fiction. We're all Going to Die has been described as 'a joyful book about death'. She edited Writer MD and co-authored Cracking the Code. Stitching Things Together was a finalist in the Anne Elder Poetry Award. She holds an MFA from Vermont College of Fine Arts. [www.leahkaminsky.com]
Meg Keneally and Leah Kaminsky have recently joined forces to co-edit a book to raise funds for wildlife charities. Animals Make Us Human will be published in early November 2020.
Missed this Virtual Talk?
You can watch the Zoom recording here: