What's On
Smuggled: An Illegal History of Journeys to Australia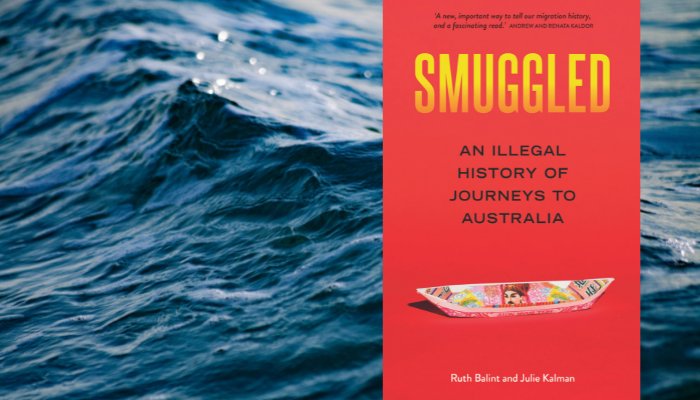 Date & Time
---
Ruth Balint & Julie Kalman join us to discuss the ideas behind the book Smuggled: An Illegal History of Journeys to Australia, tracing the fascinating story of people smuggling in Australia's migrant history, from the Second World War through to the present.
Free event – everyone welcome.
For a guide on how to register your attendance at our events using EventBrite, click here.
——————————————–
This event is being held as part of Refugee Week 2021.
Refugee Week aims to create better understanding between different communities and to encourage successful integration, enabling refugees to live in safety and to continue making a valuable contribution to Australia.
——————————————–
We are a COVID Safe organisation.
In line with NSW Health orders, visitors to our Theatre will be required to register their details with the Service NSW COVID Safe QR code.
Mask wearing is encouraged in our theatre. Please observe social distancing guidelines.
If you are feeling unwell with COVID-19 symptoms (however mild) or have visited a hotspot in the past 14 days, please do not come in. We encourage everyone to regularly check the list of hotspot locations and alerts on the NSW Health website and follow their advice.
The health of our members, visitors and staff remains our priority and we appreciate your cooperation and patience.
Smuggled: An Illegal History of Journeys to Australia
In person talk with Ruth Balint and Julie Kalman
Nowadays, when we hear the term "people smuggler", we immediately conjure images of mafia networks, organised crime, and mass deaths at sea. But people smuggling has a history in Australian migration that stretches well beyond the maritime borders of our nation, and a longer lineage than the recent refugee movements of the 21st century.
In this talk, Ruth Balint and Julie Kalman will discuss the ideas behind the book Smuggled: An Illegal History of Journeys to Australia which traces the fascinating story of people smuggling in Australia's migrant history, from the Second World War through to the present.
Australians are well acquainted with more recent maritime crossings, which are often presented as singular, unprecedented crises of human catastrophe. Smuggled: An Illegal History, challenges the historical presentism of representations of refugee movements, and puts this phenomenon into its complicated historical context. The authors bring together essays and stories that remind us that "illegalised travellers" are part of our immigration history, and that our perspective towards them is shaped by where we sit in time and place.
——————————————–
As a special addition to this event, former Vietnamese boat person and award-winning author/publisher Carina Hoang will join us to share her story. Having survived a harrowing journey and life in refugee camps as a child, Carina uses her experiences to help others, assisting Vietnamese families to find the graves of their loved ones in former refugee camps in Indonesia. Carina is also an actor in ABC's The Heights and is based in Perth.
——————————————–
Event details
This event will be held in person at our newly renovated Henry Carmichael Theatre at Level 1, 280 Pitt Street Sydney.
Registration to attend this event is essential due to limited capacity (as per COVID-19 safety regulations).
About Ruth Balint
Ruth Balint is Associate Professor of History at the University of New South Wales. She teaches and writes about forced migration and refugees in the twentieth century.
Ruth has a keen interest in Australian migration history and holds an ARC Discovery grant with Professor Sheila Fitzpatrick from the University of Sydney and Dr Jayne Persian at the University of Southern Queensland, on the subject of Russian and Russian-speaking Jewish Displaced Persons arriving in Australia via the 'China' Route in the Wake of the Second World War.
Ruth's forthcoming book Destination Elsewhere: Displaced Persons and their Quest to Leave Postwar Europe is to be released this year with Cornell University Press.  It explores the encounters of refugees with the international aid agencies, western migration agents and Allied forces on European soil during the war's aftermath, and the struggle to redefine refugees as immigrants to the West. Ruth has also written extensively on the histories of families broken apart by the immigration policies of western nations.
About Julie Kalman
Julie Kalman is Associate Professor of History at Monash University. She has published widely on French Jewish history in the nineteenth century, and in the post-war period, as well as on the history of migration to Australia.
About the Book
Co-authored by Ruth Balint and Julie Kalman and based on original research and revealing personal interviews, Smuggled marks the first attempt to detach the term 'people smuggler' from its pejorative connotations, and provides a compelling insight into a defining yet unexplored part of Australia's history.
"A new, important way to tell our migration history, and a fascinating read."

Andrew and Renata Kaldor
"Smuggled is a pioneering work in Australian immigration history. The powerful stories recounted in this compelling book about people smuggling write a new chapter in the history of displacement through the extraordinary experiences of courage, survival and resilience."

Professor Joy Damousi, Australian Catholic University
Event Bookseller