What's On
Shining a Light on Australian Women Artists – Sheila Foundation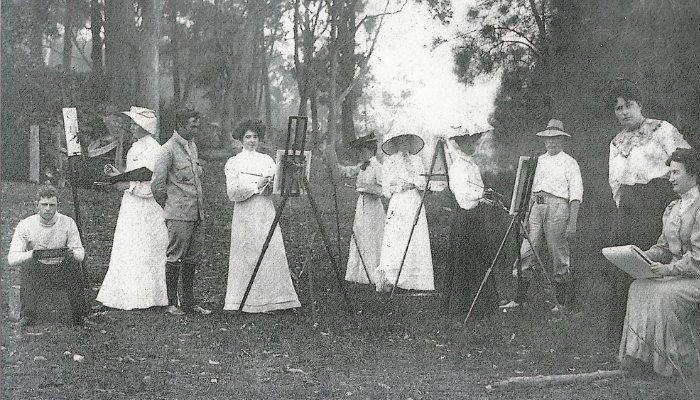 Date & Time
---
John Cruthers joins us in person to talk about Sheila: A Foundation for Women in Visual Art and the important work it is doing to shine a light on Australian women artists and their work.
BOOKINGS ESSENTIAL – REGISTER HERE

The following entry guidelines apply to all SMSA events:
Visitors to our Theatre will be required to check in using the Service NSW COVID Safe QR code.
Attendees must show proof of double vaccination (or medical exemption) to gain entry to this event. How to show proof of your COVID-19 vaccination status.
Mask wearing is required.
Please observe social distancing guidelines.
If you are feeling unwell with COVID-19 symptoms (however mild), please do not come in. We encourage everyone to regularly check alerts on the NSW Health website and follow their advice.
The health of our members, visitors and staff remains our priority and we appreciate your cooperation and patience.
Image: Women students of artist and teacher Sid Long on a plein air painting expedition, c 1910. Cruthers Collection of Women's Art artist Isabel McWhannell is the fourth artist from the left. 
Shining a Light on Australian Women Artists – Sheila Foundation
Sheila: A Foundation for Women in Visual Art is a national philanthropic foundation with a mission to overturn decades of gender bias by writing Australian women artists back into our art history and ensuring equality for today's women artists.
John Cruthers, Chair of Sheila, will join us during Women's History Month to talk about the backstory of the foundation, its aims and projects, and the future of women's art.
Come along to hear about this unique foundation which began when John Cruthers' mother Sheila Cruthers started collecting women's art in 1974. Its evolution from a personal collection to the major Cruthers Collection of Women's Art which was donated to the University of Western Australia to the Sheila Foundation will be of great interest to art lovers particularly those interested in learning more about Australian women's art.
John Cruthers will discuss the range of different projects the foundation is undertaking including Into the Light: Recovering Australia's lost women artists 1870-1960, Contemporary Women and Going Global: Taking the Cruthers Collection to the world and how these aim to shine a light on Australian women artists.
Event details
This event will be held in person at the Henry Carmichael Theatre at Sydney Mechanics' School of Arts, Level 1, 280 Pitt Street Sydney. COVID-safe entry guidelines apply.
Registration to attend this event is essential due to limited capacity.
About John Cruthers
John Cruthers is a Sydney-based adviser, art curator, collector and writer. From 1974 he worked with his mother Sheila to assemble the Cruthers Collection of Women's Art. It was gifted to The University of Western Australia in 2007 and is Australia's largest stand-alone collection of women's art. He was curatorial adviser to the Collection from 2007-17 and a member of the UWA Cultural Collections Board until 2020. His position as Chair of the public Sheila Foundation is a continuation of this work. Cruthers also works with private collectors and advises in the areas of Australian historical, contemporary and indigenous art, and southeast Asian art. He is director of 16albemarle Project Space in Newtown, which he opened to provide Australian audiences with the opportunity to see and learn about contemporary art from southeast Asia.
"It seems to be the fate of generations of Australian women artists to be secrets, a situation that will hopefully be remedied by Sheila's historical research project Into the Light: Recovering Australia's lost women artists 1870–1960. Was it an accident of history that Australia lost one of its very finest artists of either sex, Clarice Beckett, for nearly 40 years after her premature death in 1935? That Dorrit Black did not really emerge from obscurity after her death in 1951 until a handful of years ago? That Jane Sutherland, Clara Southern, Jane Price and Florence Fuller are not household names? We need to be seeing many, many more women artists in the 20th century rooms of our state and national art galleries, in our art history texts and in our school curricula, so that women's art, women's stories and women's lives are no longer secret." 
– John Cruthers