What's On
Riches to Rags and Riches Again – the Story of Surry Hills (COSHA)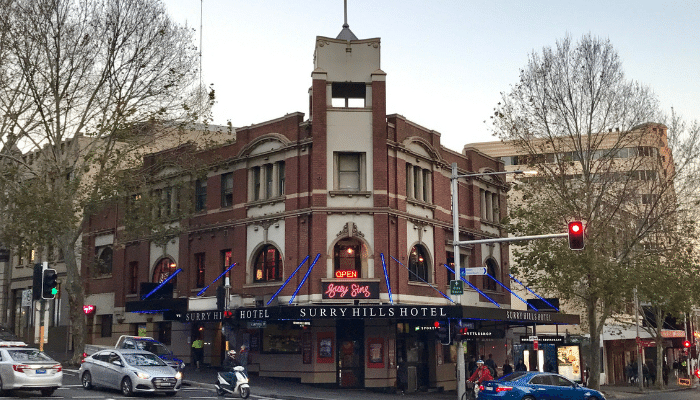 Date & Time
---
Date: Saturday, 12th March 2021
Time: 2:00pm
Venue: Sydney Mechanics School of Arts
Henry Carmichael Theatre, Level 1
Cost: Members $5 / Visitors $10
**COVID-19 CONDITIONS WILL APPLY**
Everyone Welcome
No Bookings Required
Surry Hills Hotel, Campbell Street, Surry Hills, Sydney, 2017. This file is licensed under the Creative Commons Attribution-Share Alike 4.0 International license.
The story of Surry Hills is one of the more remarkable tales of Sydney. In the early days the suburb attracted some of the "Colonial Gentry" of the time and during the 1840's Surry Hills had become a desirable residential area.
The gold rush of the 1850's saw a massive population boom across Sydney with increased housing pressure for Surry Hills and by 1890 the area had become virtually built out. Lack of planning plus a surge of speculative construction saw a slide in living conditions, with tightly packed streets and inadequate water and sewerage amenity resulting in an exodus of the gentry to other areas. Surry Hills became widely described as a "slum", with "blighted living conditions".
This description continued through much of the first forty years of the 20th century, with a bad reputation for crime, unemployment and poverty lingering across the area. The winds of change arrived in the 1950's with a major influx of post war migrants – the Greeks, Italians and Lebanese, who purchased many of the cheap old terraces – that they then refurbished. During the 70's and 80's young urban professionals joined the party, enjoying the proximity to the city and the fascinating lifestyle of residing in renovated 19th century terraces.
Join speaker Dick Whitaker for City of Sydney Historical Association to follow the journey of Surry Hills from desirable address, to inner city slum and to back on the the rich-listers agendas.