What's On
Film Matinee: A Night at the Opera (1935)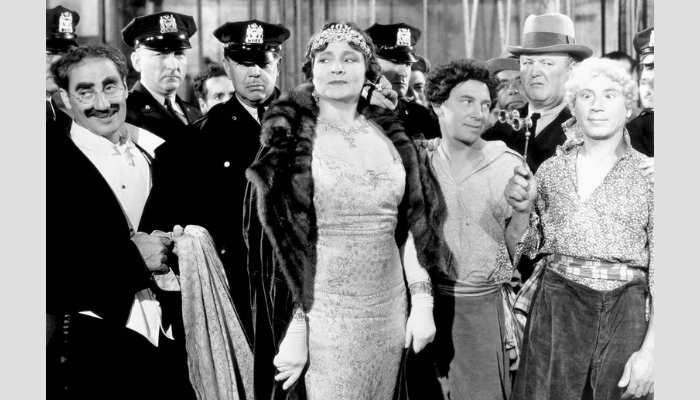 Date & Time
---
Join us to watch this classic film with an introduction by SMSA member, Peter Rainey.
A Night at the Opera (1935)
Comedy | English | 93 mins | G
Directed by Sam Wood.
Starring Groucho Marx, Chico Marx, Harpo Marx, Kitty Carlisle, Allan Jones, Margaret Dumont, Sig Ruman and Walter Woolf King.
A sly business manager and the wacky friends of two opera singers in Italy help them achieve success in America while humiliating their stuffy and snobbish enemies. But plot and synopsis don't really apply to a Marx Brothers film!
LAUGH – but at your own risk!
(Print Ad-Greensburg Daily Tribune, [Greensburg, Penna.] 30 April 1936)
"A Night at the Opera is delirious, uninhibited, insane Marxism."
(Neil Sinyard, Classic Movies, 1985)
Don't miss it! The funniest picture ever made!
Guest Speaker
The film will be introduced and given context by Peter Rainey, an SMSA member and cinema enthusiast, who returns to an earlier passion for films as a Program Director for a Queensland Cinema Group, now that he has retired after 40 years in the education profession.
Event details
This event will be held in person at our Henry Carmichael Theatre, Level 1, 280 Pitt Street Sydney.
Registration to attend this event is essential.
Image credits: Metro-Goldwyn-Mayer, A Night at the Opera (1935)
Mask wearing is strongly encouraged.
Please be mindful of social distancing.
If you are feeling unwell with COVID-19 symptoms (however mild), or are a close contact, please do not come in.
The health of our members, visitors and staff remains our priority and we appreciate your cooperation and patience.
Should NSW Health rules change in relation to reduced venue capacity, we reserve the right to cancel your registration and will contact you if this is the case.