What's On
Classic Film Night: The Round-Up (1965)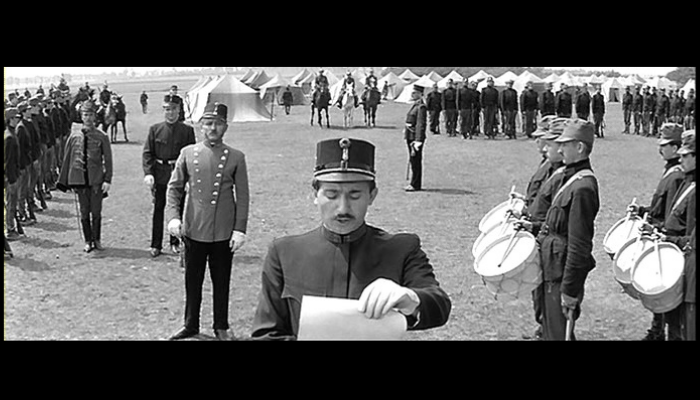 Date & Time
---
Join us to watch this film in 16mm Cinemascope print, with an introduction by Peter Rainey.
The following entry guidelines apply to all SMSA events:
Visitors to our Theatre will be required to check in using the Service NSW COVID Safe QR code.
Attendees must show proof of double vaccination (or medical exemption) to gain entry to this event. How to show proof of your COVID-19 vaccination status.
Mask wearing is required.
Please observe social distancing guidelines.
If you are feeling unwell with COVID-19 symptoms (however mild), please do not come in. We encourage everyone to regularly check alerts on the NSW Health website and follow their advice.
The health of our members, visitors and staff remains our priority and we appreciate your cooperation and patience.
Image credits: Mafilm, The Round-Up 1965
The Round-Up (1965)
Directed by Miklós Jancsó
Political Drama | Hungarian with English Subtitles | 91 mins
Starring János Görbe, Zoltán Latinovits and Tibor Molnár
The Round-Up (Szegénylegények) deals with the aftermath of the failed 1848 revolt against the Hapsburg rule when the Kossuth and Sándor Rózsa guerrilla bands were rounded up by the Austrian soldiers. Set on the vast summer-scorched Hungarian plains, the film's epic characteristics are perfectly seen in this 16mm cinemascope screening.
The Guardian's film critic, Derek Malcolm, has The Round-Up as one of his 100 greatest films: "To watch The Round-Up for the first time is to witness a kind of film ballet entering the realm of political drama."
This is a film all film buffs should see.
*Please note, this film contains scenes of violence and nudity.
Guest Speaker
The film will be introduced and given context by Peter Rainey, an SMSA member and cinema enthusiast, who returns to an earlier passion for films as a Program Director for a Queensland Cinema Group, now that he has retired after 40 years in the education profession.
Event details
This event will be held in person at the Henry Carmichael Theatre at Sydney Mechanics' School of Arts, Level 1, 280 Pitt Street Sydney. COVID-safe entry guidelines apply.
Registration to attend this event is essential due to limited capacity.
Should NSW Health rules change in relation to reduced venue capacity, we reserve the right to cancel your registration and will contact you if this is the case.