What's On
Classic Film Evening: Polanski & Vertov Triple Bill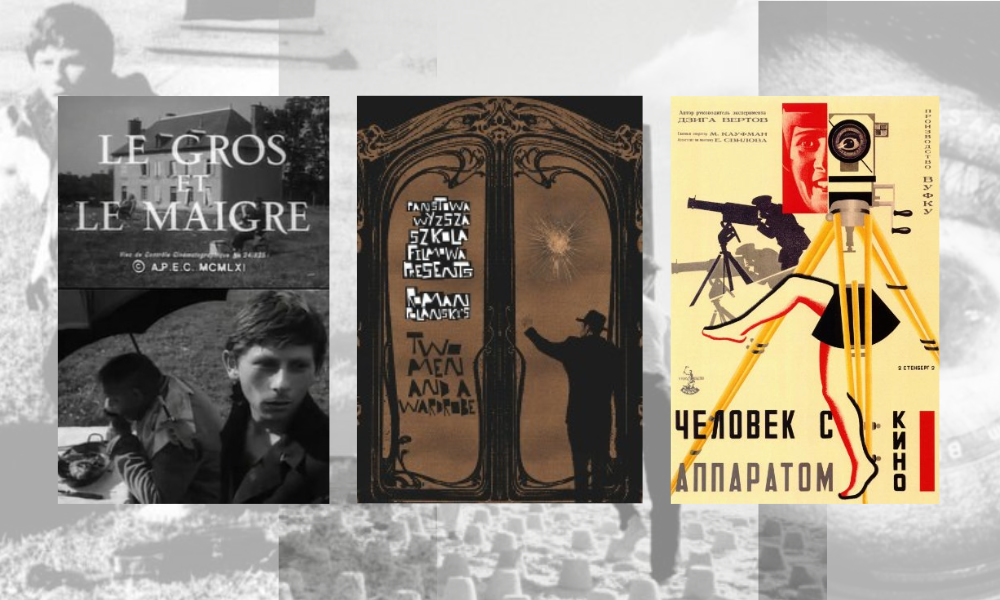 Date & Time
---
Classic Film Evening: Polanski & Vertov Triple Bill
Join us for a 'triple bill' classic film evening. First up will be two Polanksi short films and to finish the evening we will screen Vertov's Man with a Movie Camera.
About the Films
Le gros et le maigre (The Fat and the Lean) (1961)
Directed by Roman Polanski, Written by Roman Polanski
Starring André Katelbach, Roman Polanski
Drama | 15 min | U
Synopsis:
'A small and thin barefoot slave (played by Polanski) plays a flute and beats a drum to entertain his large master who rocks in a rocking chair in front of his mansion. The slave jumps and leaps like a madman, wipes his master's brow, feeds him, washes his feet, shades him from the sun with an umbrella and holds a urinal for him.' (IMBD)
---
Dwaj ludzie z szafa (Two men and a Wardrobe) (1958)
Directed by Roman Polanski, Written by Roman Polanski
Starring Jakub Goldberg, Henryk Kluba, Andrzej Kondratiuk
Short | Comedy | Drama | 15m | A
Synopsis:
'Two men emerge from the sea onto the beach carrying a large wooden wardrobe with a mirror on its front. After the two men clean up and rejoice being in this new environment, they proceed to enter the nearby town, they carrying the wardrobe wherever they go. They just want to meet people and experience their new surroundings, but are largely shunned or ignored. In some instances, they are shunned even when their presence helps the situation. And in other instances of being shunned, they are beaten. And when they are ignored, the world just keeps going without them, often at the detriment of humankind. Ultimately, the two men, with their wardrobe, make a decision about what to do in light of their experiences.' (IMBD)
---
Man with a Movie Camera (Chelovek s kino-apparatom) (1929)
Directed by Dziga Vertov, Written by Dziga Vertov
Starring Mikhail Kaufman, Elizaveta Svilova
Documentary | 1hr 8mins | U
Synopsis:
'A man travels around a city with a camera slung over his shoulder, documenting urban life with dazzling invention.' (IMBD)
Film Introduction
The screening will include an introduction and closing remarks by SMSA member, Peter Rainey.
---
This event will be held in person at the Henry Carmichael Theatre, Level 1, 280 Pitt Street Sydney.
Registration to attend this event is essential.
Mask wearing is strongly encouraged.
If you are feeling unwell with COVID-19 symptoms (however mild), please do not come in. We encourage everyone to regularly check the alerts on the NSW Health website and follow their advice.
The health of our members, visitors and staff remains our priority and we appreciate your cooperation and patience.
---
Image credits:
Le gros et le maigre (The Fat and the Lean) (1961), APEC – APEC – Association des Producteurs et Edite
Dwaj ludzie z szafa (Two men and a Wardrobe) (1958), Panstwowa Wyzsza Szkola Filmowa
Man with a Movie Camera (Chelovek s kino-apparatom) (1929), Production companies: All-Ukrainian Photo Cinema Administration, Alexander Dovzhenko National Film Studio