What's On
Chris Frame — Southampton and the Queens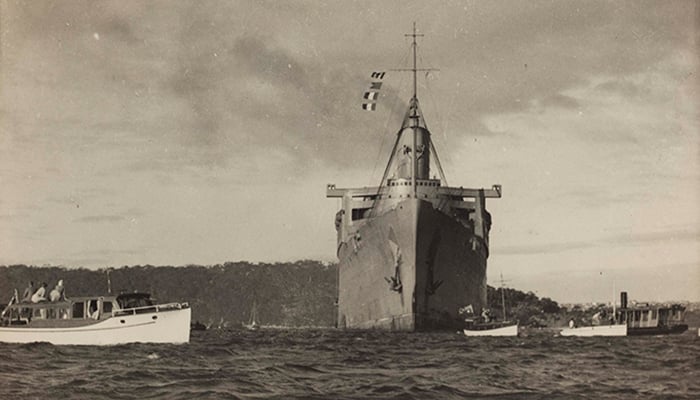 Date & Time
---
Going Places
Cunard and ocean liner expert Chris Frame reveals the story of the transatlantic race that resulted in the construction of the original Queen Mary and Queen Elizabeth.
Discover how and why the Cunard Queens were built, their impact on Britain's recovery from the Great Depression and their outstanding military service during World War II.
Tracing the various links between Southampton and the Queens, Chris will discuss their contribution to the boom in tourism and commerce in the 1940s and 1950s, as well as their decline and eventual retirement.
Chris's talk will also feature wonderful photos of the Queens and a unique historic video of both ships being launched
FREE — Everyone Welcome
No Booking Required
Photo: Queen Mary in Sydney during WWII. Photo courtesy of the Henderson & Cremer Collection.
Going Places!
Southampton and the Queens is the first talk in our new Going Places! lecture series which will keep you informed on all things travel-related. We'll explore topics such as interesting places to travel in Australia, how to be a socially conscious tourist and travel ethically, and more. And awe'll also delve into what travel looked like in the past, starting with voyaging in style on the glamorous ocean liners of the past, and even discovering what travel was like in the Ancient World.  The entire Going Places! program will be announced soon.
About Chris Frame
Maritime Historian Chris Frame published his first website on the QE2 in 1999, which grew to become the Cunard history website. Chris regularly appears on television news, documentaries and radio as a subject matter expert for ocean liner history, cruise ships and aviation. He is a contributor to various magazines and other publications including Cruise Passenger, Cruising News & Pictorial, Ships Monthly, Sea Breezes, Porthole, Cunard Passages, Australian Aviation, Airliner World and Airports of the World. Chris is the author of a number of books on ocean liners including (but not limited to) QE2: A Photographic Journey, 175 Years of Cunard and The Evolution of the Transatlantic Line, and most recently QE2: A 50th Anniversary Celebration.