What's On
Bill Phippen: Building of the Hawkesbury River Railway Bridge (COSHA)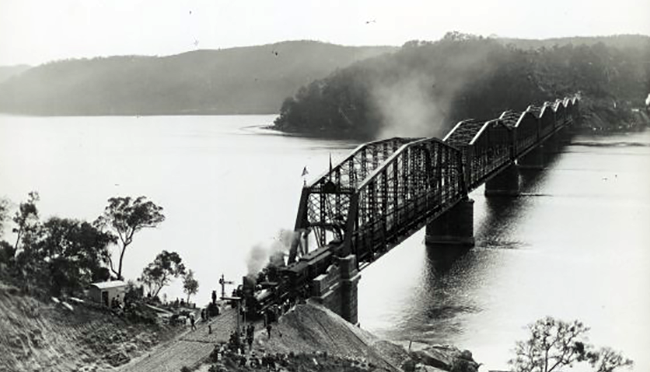 Date & Time
---
Where: Mitchell Theatre, Level 1, SMSA Building, 280 Pitt Street, Sydney.
When: Saturday, 14 November 2020
Time: 2:00pm-3:30pm
Cost:
$5 COSHA Members & General Entry.
NOTES preferred.
Bookings are Essential.
Image: Hawkesbury River Railway Bridge, Opening Ceremony 1888 Photographer John L Buckland. Public Doman via National Library of Australia collection. 
The Building of the Hawkesbury River Railway Bridge: Finding the Morse Photo Albums
When the Hawkesbury River Railway Bridge was completed in May 1889, it was the last link in a continuous railway network connecting areas north of Brisbane through Sydney and Melbourne to Adelaide and beyond. It was a necessary pre-requisite for federation and Henry Parkes said as much in his speech at the opening.
The bridge was built by American contractors, Sam Ryland and Edwin Morse, and they took a scrap book and photo albums of their work home at the end of the job. 125 years later Bill Phippen tracked the albums down in Kansas City and Washington, where a coalition of Sydney groups repatriated high resolution scans of the images and these inspired a book about the whole saga.
           The required social distancing (4m2 per person) will be observed.
Hand sanitiser available at the Ground Floor Lobby and at the door.
Sign in required. In consideration for other people we would request that you wear a mask