What's On
Australia's 'Trafalgar Day' – Adventure, Courage and Diplomacy in 1788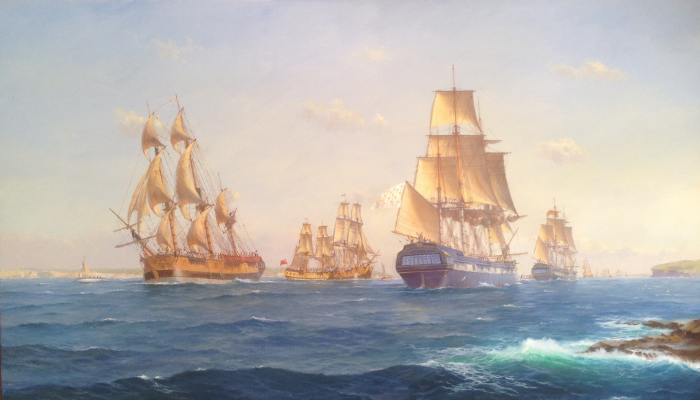 Date & Time
---
In person talk with Margaret Cameron-Ash

In the summer vacation of 1786, the British cabinet suddenly decided to send an occupation force to Botany Bay. Across the Channel, Louis XVI reacted by sending new instructions, via courier, across Siberia to Commodore Jean La Pérouse in Kamchatka. The French navigator was ordered to sail straight for Botany Bay. The race was on.
In this talk, Margaret Cameron-Ash reveals the vital piece of intelligence that triggered the British decision, and how the First Fleet won by a whisker. Her book Beating France to Botany Bay: The Race to Found Australia also tells of the meeting between Governor Phillip and Rear Admiral La Pérouse at Sydney Cove, one of the most remarkable meetings in history.
Event Details
This event will be held in person at SMSA's Henry Carmichael Theatre at Level 1, 280 Pitt Street Sydney.
Free event – registration to attend this event is essential due to limited capacity.
For a guide on how to register your attendance at our events using EventBrite, click here.
About Margaret Cameron-Ash 
Margaret Cameron-Ash has written extensively on the role of pre-settlement Australia in European politics during the Age of Revolutions. In the past two decades she has forensically examined the original charts, journals and other documents of the major navigators and political identities involved, delving into the London archives of the Royal Society; transcribing the Ledyard papers in the New-York Historical Society Library; and picking her way through manuscripts in the National Library in Canberra.
Margaret's research has made discoveries unrecognised by previous historians, including James Cook's authorised concealment of his strategic discoveries; the importance of John Paul Jones's and Thomas Jefferson's surveillance of La Pérouse's agenda in the Pacific; of the Marquis of Buckingham's attempted counter-revolution to regain America for Britain; and the crucial significance of one of Cook's former mariners, John Ledyard, and his serendipitous visit to London in August 1786.
Margaret has been a frequent contributor to various historical journals. Her other books include Lying for the Admiralty: Captain Cook's Endeavour Voyage (2018) and, in her earlier legal career, Supreme and District Courts Practice (1982).