What's On
Aches, Pains and Leeches: Introducing Medieval Medicine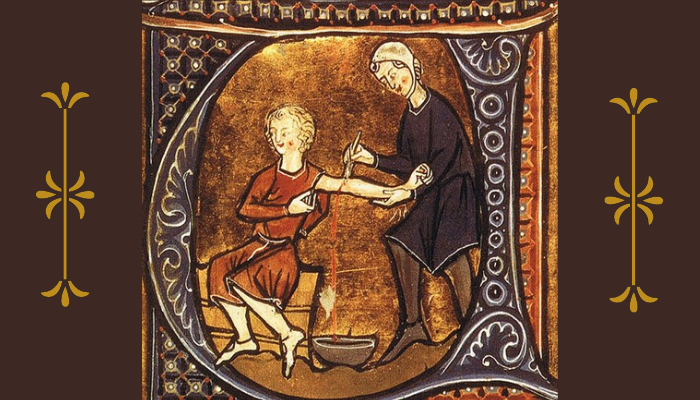 Date & Time
---
In person talk with Carmel Bendon 
From the use of healing crystals and medicinal herbs to ointments made of bear fat and surgery without anaesthetic, the medieval approach to the diagnosis and treatment of sickness is full of surprises.
Whether it was plague or childbirth, haemorrhoids or seasickness, medieval physicians and surgeons – many of them women – were up for the challenge.
In this talk, Carmel Bendon will cover a range of 'weird and wonderful' aspects of medieval medicine, illustrated with images from medieval 'herbals' (medical manuscripts).
Event Details
This event will be held in person at SMSA's Henry Carmichael Theatre at Level 1, 280 Pitt Street Sydney.
Free event – registration to attend this event is essential due to limited capacity.
For a guide on how to register your attendance at our events using EventBrite, click here.
About Carmel Bendon
Carmel Bendon is a writer, academic and presenter on "all things medieval".
She has a PhD in Medieval Literature and a 1st Class Honours in Early English, both from Macquarie University where she was a lecturer in English Literature. Her specialist field is Medieval Mystics and this was the basis of her successful non-fiction book Mysticism and Space. Other publications include articles on St Augustine, Julian of Norwich, Hildegard of Bingen, Geoffrey Chaucer, Jorge Luis Borges, and Oscar Wilde. She has been a contributor to the International Dictionary of Literary Biography, a features writer for theatre and arts publications, and a peer reviewer for several international journals. Carmel's radio presentations include 'Medieval Women – A Series' on The Ark, Radio National. Her fiction works include the novel Grasping at Water and her latest book is the creative non-fiction The Mystics Who Came to Dinner (New York: Orbis Books, 2022).
About The Mystics Who Came to Dinner
What if St. Francis of Assisi, St. Hildegard of Bingen, and the English mystics Julian of Norwich, The Cloud of Unknowing author, Richard Rolle, and Margery Kempe came to dinner?
The Mystics Who Came to Dinner imagines such a gathering, with six medieval mystics enjoying dinner and lively conversation in a modern home setting. There, the strange and sometimes alienating aspects of the medieval world are removed so that the mystics' commonalities as well as their distinctive personalities shine through and their experiences, insights and writings take on fresh appeal and relevance to the lives of twenty-first century readers. Accessible and entertaining, The Mystics Who Came to Dinner speaks to a new generation of spiritual seekers.
(New York: Orbis Books, 2022)
About Grasping at Water
When a young, unidentified woman is pulled alive and well from Sydney Harbour in 2013, the connections to another woman – found in similar circumstances forty years earlier – present psychiatrist Kathryn Brookley with a terrible decision as the events of the present and past begin to mirror each other and the gap between truth and illusion shrinks. When the young woman declares that she has lived continuously since coming to 'understanding' in the 14th century, her vivid accounts of life, love, childbirth, and loss in the Middle Ages seem so authentic that they test Kathryn's scientific objectivity to the limit. As Kathryn delves deeper, she discovers that she is not the only one whose habitual assumptions about life have been torn asunder by an apparent experience of the miraculous in connection with the mystery woman. But it is the emotional, spiritual and mystical insights that emerge from the linking of all the facets of this mystery that affect Kathryn and others most profoundly, reflecting the commonality of human experience across the ages and the deep yearnings within all of us.
Grasping at Water is a marvellous mix of mystery, history and discovery that will prompt you to wonder about the way you see life.
Highly Commended in the Society of Women Writers 2020 Book Awards.
(Odyssey Books, 2018)
Free event – all welcome. 
Mask wearing is strongly encouraged.
Please be mindful of social distancing.
If you are feeling unwell with COVID-19 symptoms (however mild), please do not come in. We encourage everyone to regularly check the list of alerts on the NSW Health website and follow their advice.
The health of our members, visitors and staff remains our priority and we appreciate your cooperation and patience.
Image: The medieval practice of bloodletting. Public domain, via Wikimedia Commons